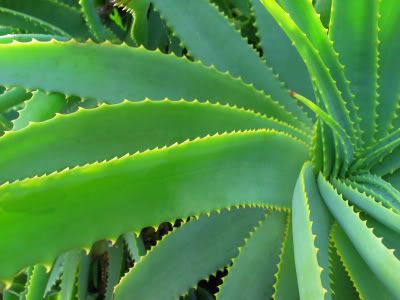 Its been called the "plant of immortality" and the "wand of heaven." Its been used for hundreds of years to heal and cure. But to a lot of people it is little more than a spiny weed. Science is really only now starting to understand the capabilities of this unassuming plant. They are now catching on to what the rest of us have known for years. Despite it's cactus like appearance, aloe vera is actually a member of the lilly family. There are well over 200 varieties of aloe yet only a handful are recognized as having any sort of nutritional value. Just one leaf might contain almost 200 compounds including; 20 minerals, 18 amino acids and 12 vitamins!
Below is my list of the top ten uses for aloe vera.
10. Burn care
From minor sunburns to more serious chemical burns, this is probably what aloe is most used and known for. While it has been used in this regard for hundreds and hundreds of years, I was really quite surprised to find very little studies have been conducted on this plant with regard to burn care. There have been quite a few in Asia, including one where the healing time of patients with thermal burns was almost 9 days shorter than the control group not using aloe!
9. Constipation
There are three components to an aloe plant; the leaf (which is usually spiny and somewhat rubbery to the tough, the thick clear gel and a sticky bitter liquid (usually yellow or red) that coats the gel on the inside of the leaf.
This substance, commonly known as aloe latex, contains the anthraquinone glycosides aloin A and B, which are potent laxatives making it a good choice for those that suffer from constipation. Dried latex capsules can be found at most health stores or pharmacies over the counter. You can also use the gel straight from the plant blended with fruit juice.
8. Weight Management
Because aloe creates a strong cathartic response, aloe has been used for many years as a weight loss aid. Scientists are only now though beginning to study the effects of aloe in lowering cholesterol. Studies have found that aloe can significantly reduce cholesterol and triglycerides in patients!
7. Ulcerative Colitis
There is promising (albeit limited) research that suggests aloe vera (taken orally) can be effective in relieving symptoms of this disorder.*
A double-blind, randomized trial examined the effectiveness and safety of aloe vera gel for the treatment of mild-to-moderate active ulcerative colitis. Researchers gave 30 patients 100 milliliters of oral aloe vera gel and 14 patients 100 milliliters of a placebo twice daily for 4 weeks.
Clinical remission, improvement and response occurred in nine (30 percent), 11 (37 percent) and 14 (47 percent) respectively, of aloe vera patients compared with one (7 percent), one (7 percent) and two (14 percent), respectively of patients taking the placebo. It appeared to be safe.
Science suggests aloe is an acceptable aid in treating Ulcerative Colitis because it is anti inflammatory, contains wound healing properties, anti bacterial and analgesic.
6. Skin issues (such as acne and psoriasis)
A 1996 study published in Tropical Medicine and International Health found that after 16 weeks, a cream with aloe vera extract (30%) significantly helped to clear psoriasis in 25 of 30 patients, compared with 2 of 30 patients who were given a placebo.
Some of the reasons why aloe is so effective in aiding acne and other skin disorders are;
Aloe aids in the absorption of other ingredients into the skin. Lignin is a component of aloe that actually helps other ingredients of topical creams or gels, penetrate into the skin. Using aloe vera in combination with other active ingredients would help to accelerate the absorption of those ingredients into the skin, killing the acne bacteria.
Aloe is antiseptic. 3% of Aloe Vera gel is composed of saponins which are soapy substances that cleanse and have antiseptic properties. They also act effectively as anti-microbials against bacteria, viruses, fungi and yeast.

Aloe is anti-inflammatory.

Aloe vera contains salicylic acid that has anti-inflammatory and anti-bacterial properties. This makes it very useful against acne and is a common ingredient in topical acne creams.
Aloe vera has enzymes. Enzymes like Bradykinase, help to reduce excessive inflammation and consequently reduce pain. Other enzymes help digest any dead tissues in wounds.
Aloe also contains substances called polysaccharides which stimulate skin growth and repair (which is one of the main reasons why it is so effective on scars.)
5. Diabetes

A study reported in Hormone Research found that when given 1/2 a teaspoon daily for up to 14 weeks, adults with non insulin dependent diabetes had their blood sugar levels lowered by 45%!! Among its many ingredients (such as enzymes, amino acids and various minerals), aloe contains a sugar called glucomannan.
A long-chain sugar molecule composed of glucose and mannose, glucomannan is thought to have anti-inflammatory and antiviral actions in humans. Researchers suspect the compound interferes with virus replication and/or alters a process involved in the development of infection. Researchers at Tokyo Women's Medical College have shown that certain proteins in aloe gel may stimulate the production of killer cells, which are naturally occurring white blood cells that defend against bacteria and other immune system threats.
Mannose opens blood vessels and generally aids blood flow while glucomannan promotes healthy levels of
blood triglycerides.**
4. Digestive Disorders (such as ulcers, heartburn etc)
The juice of an aloe plant can be very effective in soothing irritations of the esophagus and is generally effective for relieving acid reflux. Aloe has a long history of use in this specific regard in Europe.
If you suffer from heart burn or ulcers, you can try taking a 1/4 to 1/2 cup aloe juice (which you can either make yourself or find in most health food stores) about 20 minutes before each meal.
3. Dandruff
A lot of the shampoos and treatments on the market for dandruff sufferers contain harsh chemicals and can further irritate the scalp. This leads people to ask "is the cure worse than the disease?" Early studies into aloe's effect on dandruff*** (or seborrheic dermatitis) have proved quite promising.
The gel part of the plant can be used as a pre-treatment before shampooing. Simply massage aloe into scalp and leave on for 10 to 15 minutes before using shampoo and styling as usual. This can be done as often as you wash your hair.
2. Yeast Infection
While there are a number of natural methods for healing yeast infections, including garlic (which I have personally used) and yogurt (not vegan though), aloe's anti-inflammatory and antipruritic qualities can greatly ease the symptoms of a yeast infection, while at the same time it's, bactericidal and fungicidal properties can actually heal it.
There are two ways to use aloe in this regard:
Use the juice as a type of douche once or twice a day.
Cut a sliver of the "gel" from the leaf and insert it vaginally.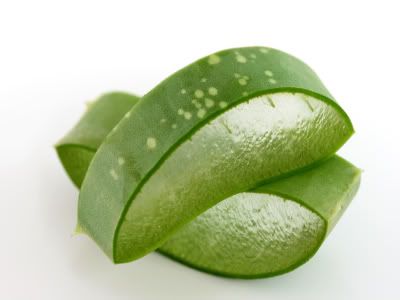 And finally….
1. Oral Health
Most people are not aware that aloe can do a number of things to help with periodontal issues. There have been numerous cases of people who have used pure aloe gel in their mouths to actually regenerate receding gums!
There are eight main uses of aloe vera in dental practice:
1. Applications directly to the the sites of periodontal surgery.
2. Applications to the gum tissues when they have been traumatized or scratched by toothbrush-dentifrice abrasion, sharp foods, dental floss, and toothpick injuries.
3. Chemical burns are relieved quickly from accidents with aspirin.
4. Extraction sites respond more comfortably and dry sockets do not develop when aloe vera is applied.
5. Acute mouth lesions are improved by direct application on herpetic viral lesions, aphthous ulcers, canker sores, and cracks occurring at the corners of our lips. Gum abscesses are soothed by the applications as well.
6. Other oral diseases chronic in nature respond with Lichen Planus and Benign Pemphigus. Even gum problems associated with AIDS and Leukemia patients receive relief. Migratory glossitis, geographic tongue and Burning Mouth Syndrome are improved.
7. Denture patients with sore ridges and ill-fitting dentures and partials can benefit as fungises and bacterial contamination reduce the inflammatory irritations.
8. Aloe vera can also be used around dental implants to control inflammation from bacteria contamination.
Studies cited:
* Langmead L, Feakins RM, Goldthorpe S, et al. Randomized, double-blind, placebo-controlled trial of oral aloe vera gel for active ulcerative colitis. Aliment.Pharmacol.Ther. 4-1-2004;19(7):739-747.
** Glucomannan minimizes the postprandial insulin surge: a potential adjuvant for hepatothermic therapy. Medical Hypotheses , Volume 58 , Issue 6 , Pages 487 - 490 M . McCarty
*** Vardy AD, Cohen AD, Tchetov T. A double-blind, placebo-controlled trial of Aloe vera (A. barbadensis) emulsion in the treatment of seborrheic dermatitis. J Derm Treatment 1999;10(1):7-11.