Mark Roh, U.S. Food and Drug Administration's acting regional director holds a bag of tomatoes being tested for salmonella bacteria at FDA's southwest regional research lab, in Irvine, Calif., Monday June 9, 2008, where microbiologists are working to trace the source of the outbreak. McDonald's, Wal-Mart and other U.S. chains have halted sales of some raw tomatoes as federal health officials work to trace the source of a multistate salmonella food poisoning outbreak.
I'm sure by now you all know about the outbreak of salmonella in 9 states that has been linked to raw tomatoes. It would seem panic has now reached a feverish pitch as many US chains are now pulling tomatoes from their menus and shelves due to illnesses in 16 states.
So… what is salmonella?
It's essentially a group of bacteria that causes diarrhea, fever and abdominal cramps 12 to 72 hours after infection. Its nasty business and can take up to a week to recover from!
The good thing is it is preventable. Here are ten ways to help prevent salmonella poisoning:
Wash hands thoroughly before and after handling raw poultry or eggs (n/a to raw vegans)
Don't cross-contaminate. Keep raw meat, poultry, fish and their juices away from other food. After cutting raw meats, wash hands, cutting board, knife and countertops with hot soapy water (n/a to raw vegans)
Never leave food at room temperature for longer than two hours. One hour is the standard when it's warmer than 90 degrees Fahrenheit.
Keep hot foods hot and cold foods cold. Keep hot food over a heat source and keep cold food on ice. Ideally, keep cold foods refrigerated until you are ready to serve them.
Keep perishable picnic food in a cooler with ice. Set the cooler in the shade and open the lid as little as possible.
Do NOT eat raw eggs. No homemade cookie dough, eggnog or Caesar salad, unless you use pasteurized eggs or egg substitutes: Pasteurization destroys salmonella bacteria (and most of the nutrients in your food but we won't go there)
Eat eggs by their "use by" date, which is marked on the carton (n/a to raw vegans)
Cook eggs thoroughly so that the yolk and white are both solid. Eggs should be cooked to an internal temperature of at least 150 degrees Fahrenheit for at least 15 seconds. (n/a to raw vegans)
Chicken breasts should be cooked to an internal temperature of 170 degrees Fahrenheit, and whole chickens should be cooked until the thigh reaches an internal temperature of 180 degrees. (n/a to raw vegans)
Don't eat any food that you suspect may have sat in the "danger zone" for too long (40-140 degrees Fahrenheit for more than two hours). It is not worth the risk of getting sick.
Sooooo in a nutshell… wash your food (fruit and veggies mainly) and your hands people!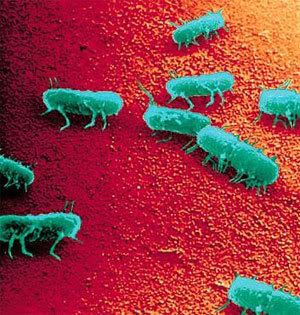 Update: I've had a few people ask how the heck would salmonella get inside a tomato…? Well two ways. The first is through soil contamination. The second is through the skin. Salmonella is extremely small and it would not take much for it to get into the pores of a tomato (or into a bruised or punctured tomato). My suggestion is to stick to the heirloom varieties of tomatoes or the small grape or cherry varieties. Tomatoes are one of the easiest things to grow and they don't require much fuss.