Tonights dinner; Coconut noodles in a Thai peanut sauce, Wakame and tomato salad with a garlic ginger sauce: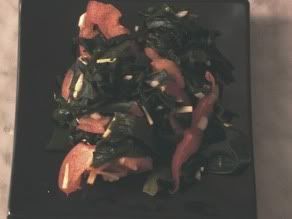 The pièce de résistance:
A chocolate cherry cheese"cake". The garnish is edible… lemon verbena picked from our indoor herb garden.
The blizzard prevented me from going to the store to get some proper mini-springform pans… so unfortunately I had to improvise by cutting a cylindrical, empty sea salt shaker in half. Needless to say it didn't hold the shape THAT well but it was what we had on hand.
If any of you are interested in the recipes,  you can find them in this post!! Hope you are having a love and peace filled day!