Instead of flooding your inboxes with a bunch of smaller posts about what's been happening in our lives, I've decided that a Top Ten List would be much easier to handle. This is going to be somewhat lengthy so you've been forewarned!
So here we go! This is in order of how each event happened:
10. My Sister in Law's wedding
Theres a lot that went on over the three day event (like my brother in law stealing the hotel security's walkie talkie's or the groom being so intoxicated he had to be escorted back to his brides suite) but the height of it had to be when a crazy French Canadian guest (the groom is from Nova Scotia) decided at 3 am to take a dip in the duck pond (yes you are reading that correctly).
He donned the appropriate attire (a purple speedo) and did his best Tarzan impersonation as he swung on a willow branch into 6 inches of muck and duck filth. Not happy with the existing fountains at Cherry Valley Lodge, he decided to recreate one in his image. We all watched in horror as he gulped the pond water and squirted it in a graceful stream above his head. A video of this little excursion does exist…. but I think I'd buy myself a one way ticket to hell if I posted it.
9. We took a trip to Georgia
Brent and I weren't entirely sure that Florida was where we wanted to be. Our highest concentration of clients happens to be in the South, two being in Georgia including one of our biggest client's. So we took a trip to meet them!
8. Meeting Rhonda and Frank Duffy
By far the highlight of the Georgia trip was spending an evening with these two. Both are exceptionally gracious hosts and their home (which has been featured several times in Southern Living Magazine) was unbelievable. Over the past few months Rhonda has moved from being a client to something more. Shes been there for us as we've navigated some of the biggest decisions we've had to make. Her husband Frank is the single funniest guy I have ever met. Rhonda is the most driven, kookiest and honest person I have ever encountered and I feel privileged to call her a friend. Rhonda… this does not mean I'm ever going to let you anywhere near my silverware though!
7. The Business
The economy has really taken a beating in the past year but our business has been in a strange little bubble. We've had our best year to date and we have never been more busy than we are now. We are truly blessed because of this, as we know this is not what a lot of people in this country are experiencing.
6. I resigned
Brent and I have been married for 3 and 1/2 years now. Just about every three months or so during that time I have flown back to Jamaica to work. It finally caught up to us and I decided to be up here in a more permanent capacity.
5. Cleopatra passed away.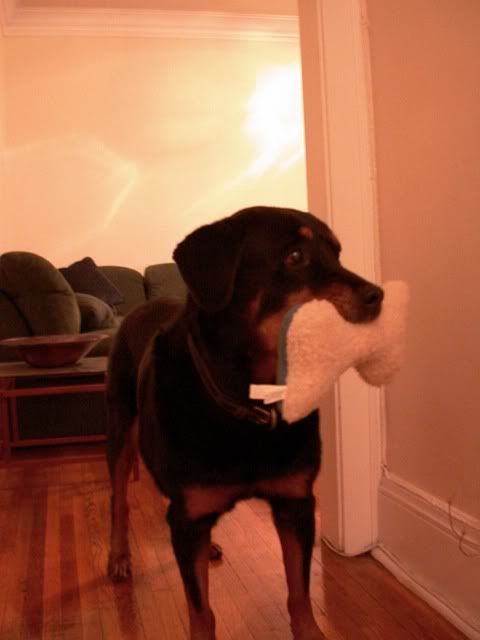 Cleo was diagnosed about a month and 1/2 ago with a condition called Megaesophagus. She went downhill very fast but we were able to make her comfortable in her last moments. I miss her every single day and I believe she is finally at peace tormenting rabbits in that big dog park in the sky. Losing her felt like losing a limb.
4. Grandma
One of my grandmothers had to have emergency surgery to remove a kidney! This was extremely stressful for me as I lost both grandfathers at the beginning of the year and was still grieving them. However, she came out of the surgery just fine and has recovered to near perfection!
3. We're finally moving!
We finally chose a state and a city (Windermere, Florida!!!!) On December 17th a moving truck will be parked out front our place ready to be filled! This has been such a long time coming and I am so excited to get out of this state. The house is 95% packed and while it's been stressful having our lives in boxes the past few weeks wouldn't trade it for anything!
2. We bought a house!!!!!
We close on our first house together on the 15th of December. I cannot believe we are going to be homeowners. The house truly deserves its own post but here is a quick shot of the front of it:
and last but not least………………. the number one craziest thing is………………………………………………………. …………………………………………………………………………………………………………………………………………………….
1. I'M PREGNANT!!!!!!!!!!!!!!!!
I'll be 6 weeks tomorrow. New state, new house and new life. I have never been more excited in all my life.