One of the first things I noticed when I got into the raw food lifestyle was the complete bombardment of gadgets and tools. Everything from 9 tray dehydrators to aid you in your quest to create edible raw bread to slicer's that julienne and "noodle" just about any fruit or vegetable you can think of to industrial commercial quality blenders that will puree the bones in your hand if you give them a chance!
For my first product review though, I will be concentrating on what I believe to be a chefs (raw or otherwise) most important tool: knives!
Our favorite knives in our collection (we have a lot of knives) are our Henckel set and our handmade Warther & Son set.
But Henckel and Warther are not the only good knives on the market so instead of concentrating on an analysis and comparison between the two types I own, this review will differ in that I will detail how to pick the right knife.
Most of the knives on the market are mainly made of steel but you can find knives made from a wide array of materials including; ceramic (which are excellent for chopping soft foods like tomatoes), glass, plastic (great for chopping heads of lettuce) and titanium.
Regardless of what material your knife is, you will want to make sure that the blade is made completely of one type of material be it metal or otherwise. This will ensure that the knife is diuturnal and tenacious.
Pay close attention to the handle. Can you get a good grip? Does the material it's made of feel good in your hands? Many consumers will just purchase a set without ever touching it. Make sure you hold each knife in your hand. Simulate chopping motions (hopefully not on the sales rep) and get a feel for the heft (weight) and balance. Again, does the knife feel good in your hands?
Knives today tend to come in six, eight or ten piece sets. Regardless of how many knives you get, I recommend making sure you have at least the following:
An 8 or 10 inch "chefs" knife. This sucker will see you through all the big jobs whether you are turning a diakon radish into shoe-strings or an extra in a horror flick. I recommend buying the largest chef knife you are most comfortable with.
A 2 inch paring knife. Probably the knife most mistreated and taken advantage of, this knife will make quick work of the smaller, intricate (but still essential) jobs in a kitchen including peeling and coring.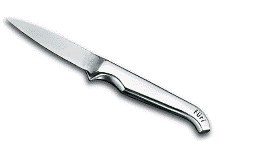 A serrated bread knife. These come in a wide range of sizes but they are typically long (usually between 6 and 10 inches). Look for one with an offset handle to ensure that you don't take off a knuckle while using it.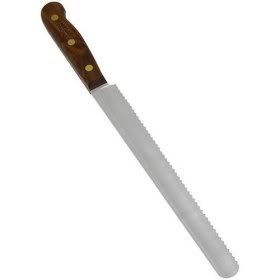 A 6 inch chopping or "utility". Sometimes called a tomato knife, this medium size knife usually feels a bit more comfortable in a knife novices hand as apposed to a chef knife. They can come with either a serrated or plain edge. I recommend plain.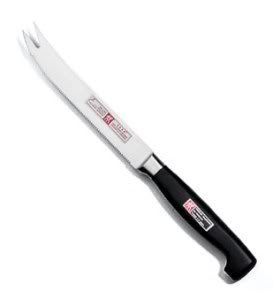 Of course, each of these knives can be purchased individually or part of a set. If you do decide to purchase a set, look for one that throws in a couple extras, like kitchen shears and a sharpener.
A few last words on the proper care and treatment of knives:
Always keep your knives sharpened. Most of the accidents that happen in a kitchen are the result of blades that aren't sharp enough to get the job done cleanly and quickly. A dull blade will slip during the cutting process and possibly catch your fingers.
If you sharpen your knives regularly (just one quick swipe before use), you will only need them professionally sharpened once a year.
When storing knives in a choppers block, make sure the blade is completely dry before placing it into the block to prevent bacterial growth.
Rust prevention is an oft overlooked but nonetheless important issue that I will touch on briefly. There is an element of deception in the word "stainless"… a more accurate term would be rust resistant. Nothing is ever truly stainless and if the stars are aligned, a blade can and will rust. There are as many products on the market today that will prevent corrosion as there are sharpeners. The knife section of any good store will carry them and they should be included in your knife "kit".
Happy Chopping!