I don't think there's a raw foodist (or hell even a vegetarian or vegan) alive right now that isn't completely over the whole "but what about protein" argument. Quite apart from the fact that fruits and vegetables contain more than adequate amounts of protein, raw foodists have a secret weapon: nut milks!
Candia Cole's Not Milk… Nut Milks! contains 40 completely dairy free nut and seed milk recipes. The book is on the thin side about ½ inch thick and 128 pages in total. It doesn't have too much of a preamble… the first 41 pages are a bit of background on the author (she's a caterer), what lead her to nut milks (concerns about her health) and a brief breakdown of the nuts, seeds, sweeteners and fortifiers she uses in her recipes. The remaining portion of the book is entirely devoted to her recipes and is organized by the type of nut or seed used: Almond Milks (9 recipes), Cashew Milks (10 recipes), Pecan Milks (5 recipes), Pine Nut Milks (5 recipes), Walnut Milks (4 recipes), Pumpkinseed Milks (4 recipe), Sesame Seed Milks (3 recipes) and finally Sunflower Seed Milks (3 recipes).
The book was printed in the early 90's as is evident by the back cover photo of Candia and her son. Check out the hair and that blouse!
Not Milk… Nut Milks! is not technically a raw "cook" book but it is for the most part, save for one small mention of honey, vegan. The reason why the book isn't really raw is because of the sweeteners she suggests using (Maple Syrup, Molasses, Barley Malt and Brown Rice Syrup to name a few.) I have always thought that nut milks stand nicely on their own without any sugary additions but whenever I drive past a Baskin Robbins or Brent gets a craving for a Dairy Queen milkshake, this book has proved invaluable. Her combinations are intriguing and the book is a fantastic launching pad to devising your own creative and tasty nut milks and nut milkshakes.
A few of the more interesting concoctions are: Apple Harvest Pecan milk, Minty Carob Pumpkinseed milk and Lemon Coconut Cashew milk.
Some of the additions that she suggests to fortify nut milks are spot on (like flax seeds, lecithin and carob powder) and there were even a few I had never actually heard of including Slippery Elm Powder (which is a great source of protein and enzymes) and calcium powder (which can contain 950 mg of calcium in each teaspoon!)
While there are several methods to making nut milks, Candia concentrates on just one. If following her recipes you will generally need:
A blender
An electric coffee or seed grinder
A fine mesh sieve, strainer or a nut milk bag
And a spoon
Her quick 4 step process to making nut milks is the cornerstone of each of the recipes and is essentially as follows:
Purify water by boiling (for those of us who paranoid or can't get to a store that sells a filter I guess)
Grind nuts and/or seeds to fine powder and transfer to blender
Add fortifiers or sweeteners to blender (if using) along with water. Blend to desired consistency.
Pour contents through fine sieve into glass pitcher or jar
That's it in a nutshell (groan all you want I couldn't resist it!)
So… what about the other 3 methods you ask? Check out this post!
I only have one real gripe about this book and that is the truncated and outdated "Directory of Nutmilk Ingredients" section which is supposed to be a reference section of sorts yet is completely useless. While quite a number of companies are listed, several turned out to be out of business and not one website is included for any of them, which tells me this book has not been updated or revised.
I should mention that there are a total of three tiny poor quality black and white photos in the entire book. All three are of the various common ingredients she uses throughout the recipe section. Quite a number of simple line drawings of fruits and other things are scattered throughout the book (they look like something out of Laura Ingles Wilder's diary):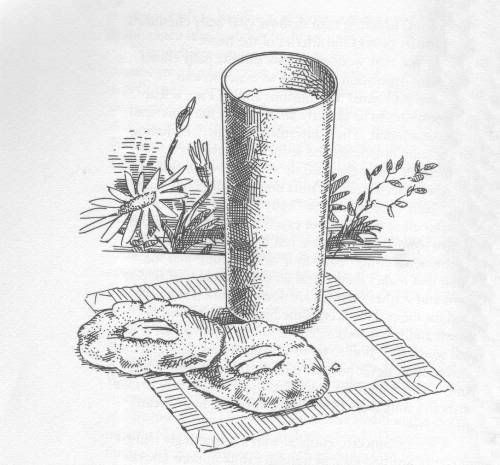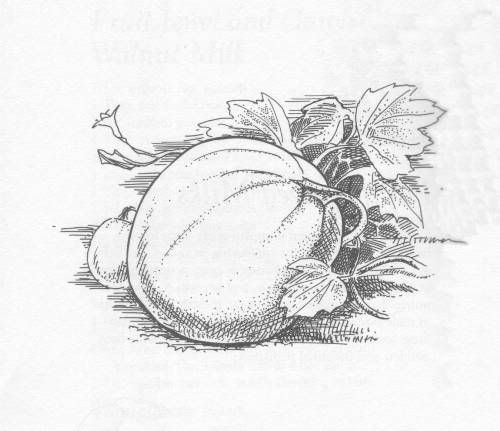 RATING:
Despite the slight mawkishness, lack of photos and the occasional non raw product, the Head Nut gives Not Milk… Nut Milks! 3 ½ out of 5 coconuts for creativity and some very tasty recipes! It's not a must have but its a nice addition to any raw library.
Interested in checking out some of my personal nut milk recipes? You can find them HERE!